Senior Director, Development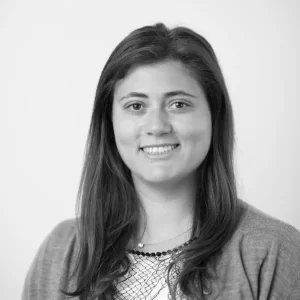 Emily brings over 10 years of experience in investment banking and project development in the energy sector across the power generation, petrochemicals and synthetic fuels sectors. Emily is responsible for leading the strategy, development, and execution for Ambient Fuels' western region.
Before joining Ambient Fuels, Emily was a Director of Business Development at Proman, a global, vertically integrated petrochemical and energy company. While at Proman, she led the development of an 80 MW electrolyzer project in Canada and a 200,000 MTPA bio-methanol project in Texas, including the waste-to-methanol and electrolyzer components. In addition, Emily's role included greenfield development of natural gas-derived petrochemical projects, corporate strategy and project financing.
Prior to Proman, Emily held roles in investment banking at Barclays, J.P. Morgan and Merit Capital Advisors, where she worked on municipal financings for public power utilities and M&A transactions for power generation assets.
Emily holds a Bachelor of Science in Economics (concentration in Finance) from the Wharton School at the University of Pennsylvania, where she competed on the Women's Varsity Tennis team.