Jacob Susman is a clean economy business builder, investor, and thought leader who has been developing and originating renewable energy projects for over 20 years. He is CEO and co-founder of Ambient Fuels, a green hydrogen developer guiding heavy industry through the great green upgrade.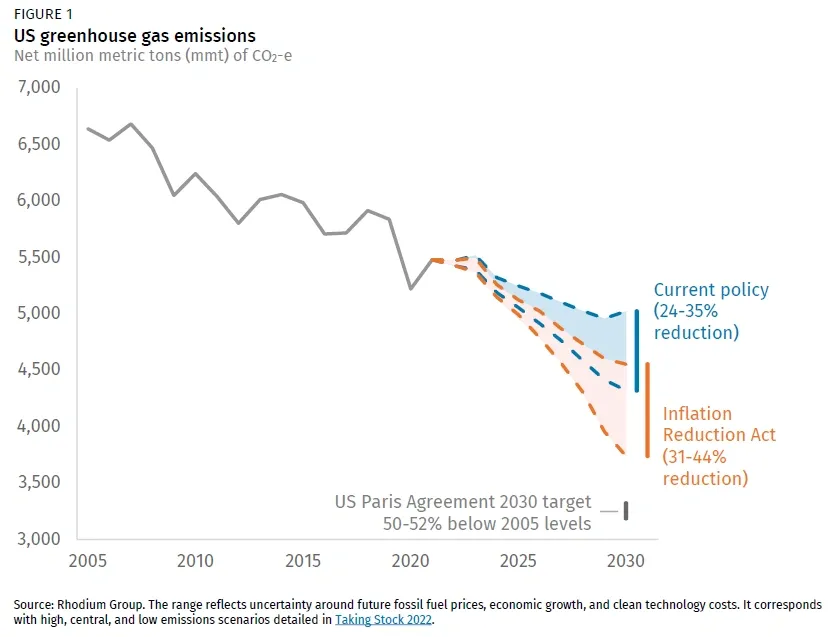 Now that Democrats have reached agreement on the "Inflation Reduction Act" (IRA), it should fast-track through the Senate and could become law by the end of the month. Based on initial study of the bill text, it looks like a huge win for renewable energy that will jumpstart a green hydrogen revolution.
Two studies project the bill would significantly boost U.S. efforts to cut greenhouse gas (GHG) emissions and meet our obligations under the Paris climate agreement.
Comparing projections of greenhouse emissions in 2030 with and without the new provisions in the IRA, Rhodium Group finds the bill would reduce GHG emissions by an extra 27.4%. Energy Innovation's data suggest the boost could be as high as 34.4%. This won't be enough on its own for the U.S. to reach our 2030 goal, but it will move us significantly closer.
The solar and wind industries have been flagging recently — down 53% and 78% respectively in the second quarter compared to last year — not because of lack of demand, but over policy uncertainty and supply chain issues. Developers and manufacturers in those sectors are eagerly awaiting the restart that this bill could provide.
What about green hydrogen, another way to put renewable energy to work to lower carbon emissions for industries that need a green molecule? It has already drawn a lot of attention this year for use cases as varied as trucking, shipping, and decarbonizing heavy industry.
The law would allow hydrogen producers to access a production tax credit for the first time. The credit uses a tiered system so that producers of "green" hydrogen, which generates the lowest kilograms of CO2 per kilogram of hydrogen produced get a larger amount. The lower tiers are intended to incentivize existing "gray" hydrogen producers (which use fossil fuels and generate significant emissions) to add carbon capture technology to their facilities, producing what's known in the industry as "blue" hydrogen.
Ambient Fuels and other green hydrogen producers replace fossil fuels in the production process with electricity generated from renewable sources such as solar and wind, ensuring that hydrogen can be produced in large quantities without fossil fuels as an input. For green hydrogen producers with CO2 emissions less than 450g for each kilogram of hydrogen, the tax credit will increase to $3/kg of hydrogen. This credit will ensure that green hydrogen will be more affordable than gray hydrogen in the near future.
Industry leaders have generally responded favorably to the new legislation. Jeff Bechdel, a spokesperson for Hydrogen Forward, said the bill "will encourage further growth of clean hydrogen, which will play a critical role in addressing hard-to-decarbonize sectors like transportation, heavy industry, agriculture, and power generation."
Ryan Breen, the Head of Corporate Strategy at Jericho Energy Ventures, said "the Hydrogen Production Tax Credit (PTC), if passed, will become the most consequential piece of legislation for the adoption of clean hydrogen."
Jericho is a venture capital firm that seeks opportunities in the "hydrogen value chain." Breen said in the search for economic ways to decarbonise hard-to-abate sectors like power generation and heavy industry, "the maximum $3/kg Hydrogen PTC will immediately put hydrogen into cost parity with carbon-emitting fuels like coal and natural gas.
"Much like the solar tax credits of the mid-2000's," he said, "we expect to see tremendous growth for the utilization of clean hydrogen across the U.S. economy over the next decade."
Some critics say the bill does too much to transition gray to blue hydrogen, but not enough for green hydrogen — the truly environmental option. Under the bill, you'd still get incentives even if you produced 4 kg of CO2 per kilogram of hydrogen. That's half as much as a gray hydrogen facility, but it's still at least eight times more than green hydrogen, which is produced with hardly any carbon footprint, far under the lowest tier of 450 grams per kilo.
As Abbe Ramanan, project director at the nonprofit Clean Energy States Alliance and Clean Energy Group, said, "although the bill provides a higher incentive for less-carbon intensive hydrogen, there is no other incentive for producers to pursue cleaner forms of hydrogen production." That's where transparency comes in, carbon accounting, and holding governments and major brands to their net-zero commitments.
The bill still has several obstacles to overcome before final passage. First, it must be approved by the non-partisan Senate Parliamentarian as a budget reconciliation bill, allowing it to pass the Senate with 51 votes instead of a 60 vote supermajority.
Once the bill is certified, the Democrats need every single member of their caucus to return to Washington D.C. during August recess to vote in person. That could be a challenge, not just because of vacation plans but the nationwide spike in new COVID infections.
It's worth it, for the climate, for the economy, and to spare us from heavy industrial carbon pollution when we now have an alternative.